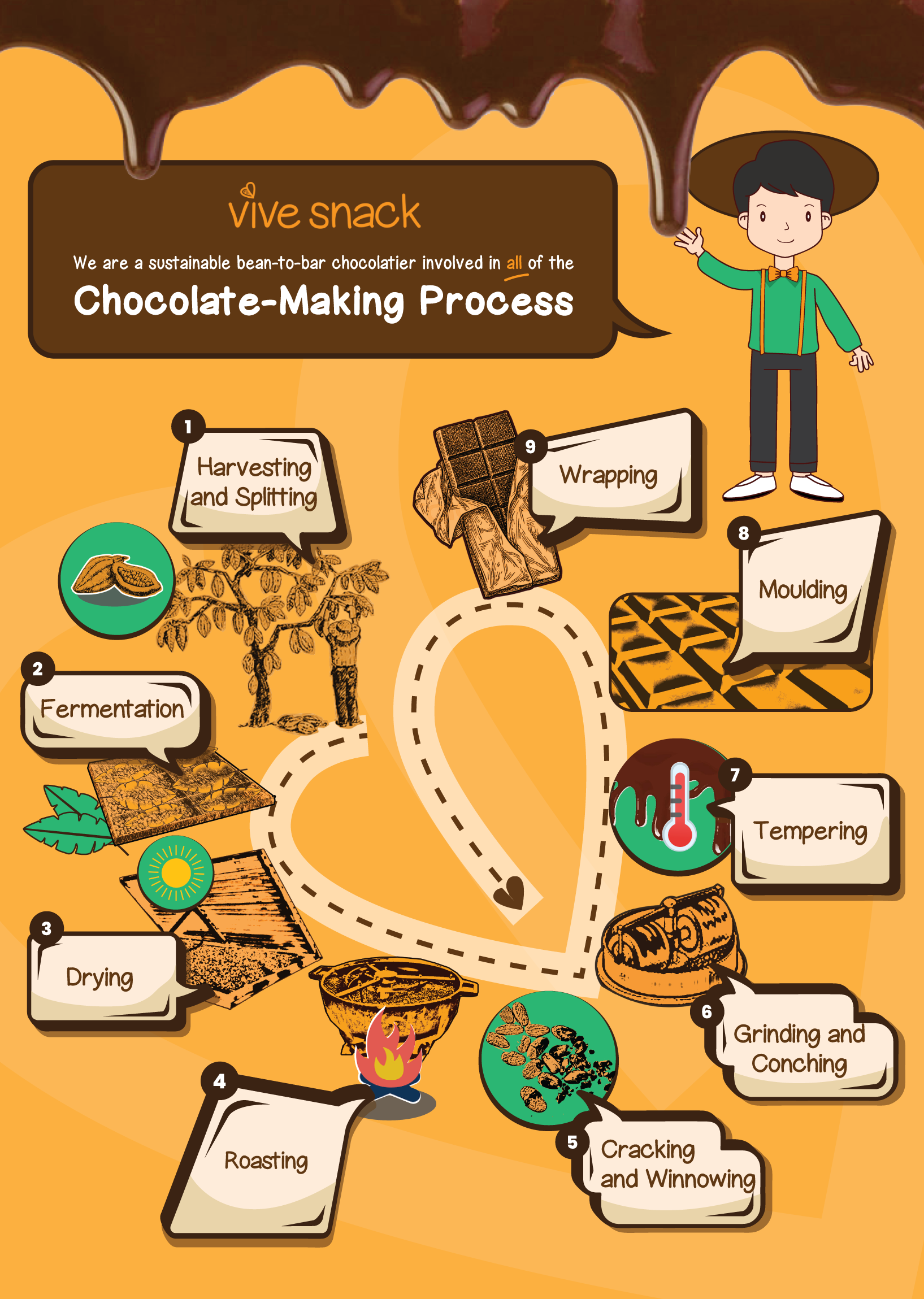 STEP 1: HARVESTING AND SPLITTING
The origin of our cocoa-based products comes from cacao beans that are homegrown and harvested in Malaysia.
All beans are carefully selected, and any misshapen beans or debris removed prior to the next step.
We also cut open the cacao and scoop out the white pulp with cacao beans.
第 1 步:收穫和分割
我們以可可為基礎的產品的原產地是在馬來西亞本土種植和收穫的可可豆。 所有可可豆都經過精心挑選,
並在下一步之前去除任何畸形的咖啡豆或碎屑。 我們還切開可可,用可可豆舀出白色果肉。
---
STEP 2: FERMENTATION
We then wrap the fresh cacao beans in banana leaf and leave them to ferment for 5 - 6 days.
The fermentation process is crucial to developing the chocolate flavour.
We work closely with the farmers to ensure the quality.
第 2 步:發酵
然後我們將新鮮的可可豆包裹在香蕉葉中,讓它們發酵 5 - 6 天。 發酵過程對於開發巧克力風味至關重要。
我們與農民密切合作以確保質量。
---
STEP 3: DRYING
After fermenting, we remove the cacao beans from the banana leaf and spread them as a singer layer.
We will leave them to dry under the sun for 3 days.
第 3 步:乾燥
發酵後,我們從香蕉葉中取出可可豆並將它們作為歌手層傳播。 我們將讓它們在陽光下曬 3 天。
---
STEP 4: ROASTING
By manipulating the time and temperature, the roasting process helps to bring out the rich and complex flavour of the cacao beans.
Roasting also preserves and boost the potency of of the chocolate flavour, aroma and depth.
第 4 步:烘烤
通過控制時間和溫度,烘焙過程有助於帶出可可豆豐富而特別的風味。 烘焙還可以保留和增強巧克力風味、香氣和深度的效力。
---
STEP 5: CRACKING AND WINNOWING
All the roasted cacao beans have thin, papery shells that need to be removed.
In a process called winnowing, we use a fan to blow away the shells, known as cacao husks, which we turn into cacao husk tea.
We are left with pure beans, also known as cacao nibs.
第 5 步:破殼和筛掉
所有烤過的可可豆都有需要去除可可殼。 在稱為筛掉的過程中,我們使用風吹走殼,被稱為可可殼,
---
STEP 6: GRINDING AND CONCHING
Using a stone grinder, we grind the chocolate into small particles, up to 72 hours or 3 days.
The stone grinder produces better quality, and through this process we cocoa mass.
We then add the organic sugar for the products that require them, such as our Super Cacao Nibs.
第 6 步:研磨和精煉
使用石磨機,我們將巧克力研磨成小顆粒,最多 72 小時或 3 天。 石磨機產生更好的質量,通過這個過程我們可可塊。
然後我們為需要它們的產品添加有機糖,例如我們的超級可可豆。
---
STEP 7: TEMPERING
High-quality chocolate has a shiny finish and a good "snap" when you break them apart.
To achieve this, we go through a tempering process where we lower and raise the temperature of the chocolate.
第 7 步: 調溫
高品質的巧克力在將它們辦開時具有閃亮的表面和良好的"啪啪聲"。 為了實現這一點,
我們要經過一個調溫過程,在這個過程中我們降低和提高巧克力的溫度。
---
STEP 8: MOULDING
The chocolate are then agitated to remove by bubbles.
Here, we also add toppings such as nuts, such as our 75% Dark Chocolate Bar - Almond.
第 8 步:成型
然後攪拌巧克力以去除氣泡。 在這裡,我們還添加了堅果等配料,例如我們的 75% 黑巧克力 - 杏仁。
---
STEP 9: WRAPPING
Finally, we wrap our chocolate in our labelled packaging to ensure it stays in perfect shape until it reaches you.
Click to view our finished dark chocolate products.
第 9 步:包裝
最後,我們將巧克力包裹在貼有標籤的包裝中,以確保它在到達您手中之前保持完美的形狀。
點擊查看我們的成品黑巧克力產品。